How to Dress for Fly Fishing
When compared with outdoor hunting or camping clothes, clothing made for fly fishing is rather different. The fact that fly fishermen spend a part of their time both on land and in the water is what makes their outfit unique to some extent. The unique products required for fly fishing include rain gear, polarized sunglasses, waders, underwear, a fishing vest, hat and gloves.
Chest and/or hip waders are crucial for fly fishing. Even though hip waders are great for fly fishing in smaller streams, they have their drawbacks. The chest waders that reach past the waist are best suited for most fly fishing circumstances. There are two different kinds of chest waders. For boot-foot waders, the boot is a very essential aspect, whereas stocking-foot waders need an autonomous set of wading shoes. A lot of fly fishermen like to wear neoprene socking-foot chest waders.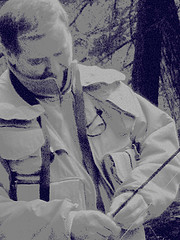 A fly fishing vest with plenty of large pockets is an essential part of any fly fisherman's wardrobe. These pockets are meant to carry all of the small bits of gear needed for a trip. Anglers don't want to be forced to get out of the water whenever they needed small item. A vest that has Velcro fasteners works most efficiently since it offers fast and convenient access to all of your equipment and shuts tightly.
A high-quality rain suit is crucial. The best waders you can buy are fabricated with material that is able to breathe, thus preventing you from getting wet from the perspiration inside. Be certain that your jacket fits tightly along the neck and at the wrists. An essential part of the rain jacket is its hood.
While you are fly fishing, full-length underwear beneath your waders is vital. Your underwear will prevent heat loss if you happen to be out in a cold stream for a couple of hours. The finest choice of underwear is created from wool. Additionally excellent picks are Durofold, which is a blend of wool, polypropylene and cotton. These standards are the same for socks.
Even though it is not a real piece of clothing, a nice pair of polarized sunglasses is highly recommended for fly fishing. The will reduce the glare from the sunlight and make reading the water much easier.
Wearing gloves while fly fishing poses a paradoxical issue. Gloves will retain the heat in your hands and fingers, but even when fly fishing, having full (or nearly full) feeling in your fingers is an absolute necessity. Gloves for fly fishing leave your fingers' last joint free, enabling the feeling in them that is required.
Another important part of any fly fisherman's outfit is his hat. It needs to have a wide brim so that ears, face and the back of neck are protected. This will not only safeguard your skin from the weather, but also it will prevent hooks from a miscalculated cast or unexpected wind gusts from flying at your head.
Wearing the right gear will keep you comfortable and safe, and make fly fishing more enjoyable.
If you enjoyed this post, make sure you subscribe to my RSS feed!